Surfboard manufacturing for a modern planet
Our vision is for a thriving and profitable surfboard industry where everyone can experience the thrill of surfing a quality board
THRIVING 
Thriving, because we believe that by freeing you up to work on your business and focus your creativity, your business will naturally thrive.
EVERYONE
Everyone, because a growing industry is an inclusive one and we believe all people should have access to experience the stoke of surfing.
QUALITY
Quality, because we appreciate great surfboard design only enhances the surfing experience when it is faithfully converted into products.
OUR MISSION
We exist to enable the surfboard industry to thrive:
by taking the pain out of manufacturing;
enabling accurate & efficient reproduction of designs; and
providing brands with a manufacturing solution that delivers a higher quality, consistent product resulting in more satisfied customers.
WHAT WE DO
kinaroad is a surfboard manufacturing solution that enables surfboards to be expediently and accurately machined, reducing the need for manual fine shaping or fin box routing. Unlike existing shaping machines, this saves time and increases efficiency, whilst ensuring that every board is consistently shaped to the designers specification.
Designed to be fully compatible with Shape3D and Aku design software, designers simply upload their existing design files to our machining platform in order to have them faithfully replicated.
If you are a surfboard manufacturer, shaper or brand owner, contact us to see if we can assist you with your manufacturing requirements – click here for customer enquiries.
What makes Kinaroad different?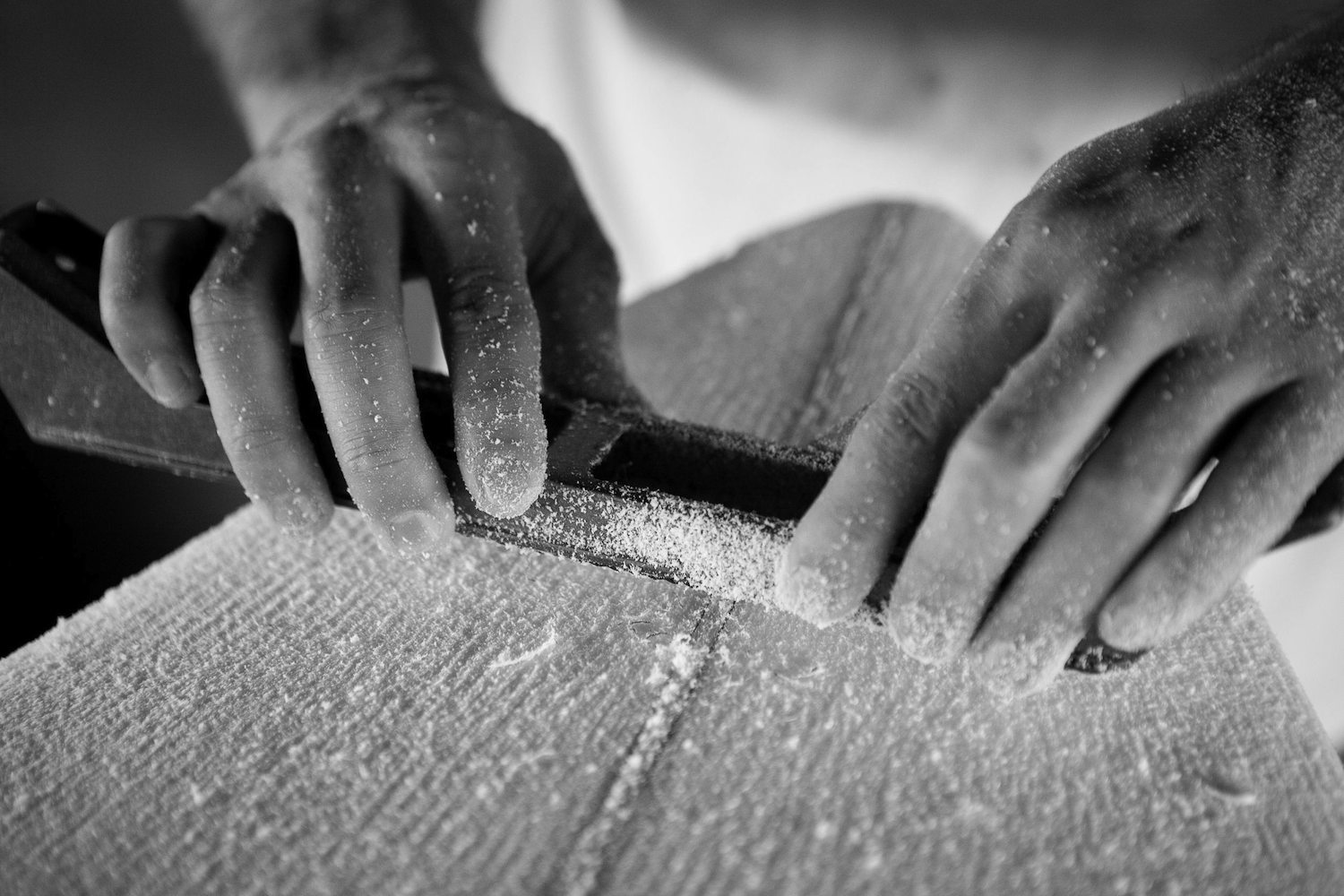 What problem are we solving?
One of your valued customers, let's call him Bob, purchases an identical board to his mate, only to find they are not the same? What is going on here? It is estimated that for every ten supposedly identical boards in production, only one or two come out as the designer intended. Why is this?
Let's break it down…
Most boards are first rough cut by a simple 3-axis routers. These machines have a high 'step-over' (distance between machining paths) and large diameter tool. Furthermore, the board is manually turned over and re-aligned during the machining process which is extremely difficult to do accurately.
This machining process creates rough shape of the board with a bumpy corrugated surface which then needs to be interpreted and manually finished by what the industry calls a finish shaper; a highly skilled process that takes 25 to 45 minutes. Hence, unfortunately not all boards are a faithful replication of the original designer's intent.
The world's top shapers understand this dilemma which goes hand in hand with scaling their brand. Unfortunately they can not be everywhere at once to guarantee their designs are faithfully replicated. With this loss of quality control they risk their brand, integrity and credibility.
With kinaroad they no longer need worry.
Next generation robotics
Our robotic machining process uses 7-axis technology and multiple fit for purpose tools to guarantee each and every shape is accurately produced. Shape, fin box placement are all automatically generated to the designers specifications. Unlike the existing shaping machines,  kinaroad has developed a next generation robotic solution that automates the entire process, shaping multiple boards consecutively, including turning over of the board and routing of the fin boxes. Boards of up to 14 feet in length can be machined accurately, reducing the need for highly skilled finish shapers.
And we have only just begun..
What does the future look like?
kinaroad is currently working on the development of lean laminating methodology that will similarly decrease cost and time and increase profitability.
Ultimately, surfboard designers will enjoy certainty that their shapes will be accurately produced in different markets irrespective of manufacturing location. Designers can be more adaptive and customer focused, innovating and deploying new products to market quickly without having to worry about the manufacturing and distribution challenges.  Surfboard brands can now scale globally with the confidence that the quality of their products are consistent across the markets they serve.
Customer Opportunities
TWEED HEADS FACILITY
kinaroad has deployed its first manufacturing facility in Tweed Heads, Gold Coast, just moments from the famous Kirra and Snapper Rocks point breaks.
kinaroad's shaping module is available under a 'shape as a service' model, meaning we charge a per shape fee for each board shaped. kinaroad is compatible with Aku Shaper and Shape3Dx design programs to ensure an effortless transition for designers using these platforms. kinaroad also has an end to end manufacturing service for epoxy surfboards. If you have any interest in our service please get in touch.
BRANDS
We are currently developing partnerships with brands who wish to use our technology.
Our Team
The most important thing to us is building products people love
Our story
kinaroad started in 2006 with a dream to create a more efficient manufacturing solution for surfboards. Central to this idea was a lean manufacturing system that could be deployed cost effectively into any market.
Our mission
Building boards is traditionally labour intensive, which is why high volume production typically takes place in low labour cost countries. This creates inefficiencies both in lead times and transportation costs. Our mission is to develop technology that automates the process, taking the pain out of manufacturing and allow boards to be made at scale in the markets in which they are used.
Who are we?
kinaroad would not exist without a dedicated group of technology partners and a talented team. A rare blend of expertise has been brought together in order overcome the numerous challenges inherent in creating what is intended to be a ground breaking revolution in surfboard manufacture.
The New Zealand government's Callaghan Innovation is a major stakeholder. Callaghan accelerates the commercialisation of innovation by firms in New Zealand. They are proud to be key investor and an integral part of our journey.
kinaroad is backed by Maui Capital, an Auckland based private equity firm with NZD500 million under management. Maui specialises in partnering with successful management teams to build and grow quality companies and is excited about the opportunity that kinaroad has ahead.